Sponsors
Without the support of these wonderful companies, this event might never have risen above ground level! Please show your appreciation by supporting them as much as you can.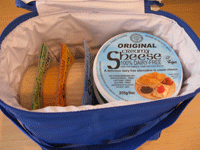 Bute Island Foods
On a distant and mysterious Scottish island these people somehow produce the world's most delicious vegan cheese (sheese). We have no idea how they do it, but as addicts we're well past caring. We were thrilled to finally discover a way to secure a free supply of their sheese and creamy sheese! Climbing mountains seemed a small price to pay, and in any event, their oddly energising sheese helped keep us going. They also kindly contributed toward our vehicle costs.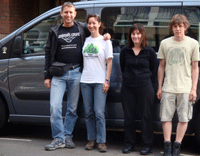 Izzy Lane
Izzy Lane provide a much-needed voice for animals in the fashion industry, and provide an ethical alternative. They use the wool from their 600 rescued sheep to make knitwear, skirts, coats and jackets, as well as vegetarian shoes. They won the RE New Designer of the Year and RSPCA Good Business Fashion Awards in 2008. They kindly contributed toward our substantial vehicle hire and diesel costs.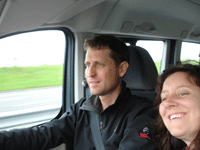 Farmaround
Farmaround was the UK's first organic box scheme, established in 1994. Purely vegetarian and operating in London and the North of England, they also support animal charities, including Compassion in World Farming. They kindly contributed toward our substantial vehicle hire and diesel costs.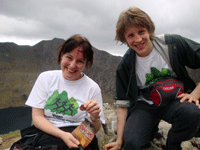 Nuvale Vegetarian Foods
Nuvale is dedicated to the the development and distribution of vegetarian and eco-friendly products like the 'CHUNKIES' they provided for us to snack on in the mountains. These are naturally flavoured with lively ingredients like garlic, ginger, onion, coriander, red and white peppers, pineapple juice and real smoke, whilst avoiding bad stuff like MSG, GMOs and additives. Fortunately they're also high in protein. As we discovered, they really pack a punch, which is helpful for waking up exhausted climbers.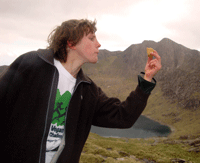 Shambhu's Vegan Caterers
These wonderful vegan cooks provide vegan catering for meetings, conferences, private parties/functions, and other events, and weekly lunch deliveries to the central/inner London area. Their supply of vegan flapjacks was truly invaluable in helping to keep us going during this challenge. Their vegan cheescake is also to die for, so we are now trying to work out which mountain we need to climb to be sponsored with cheesecake!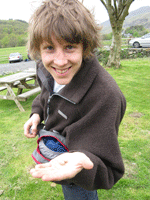 Veganicity
Veganicity from Health Plus is a range of 76 nutritional supplements designed to help support the vegan lifestyle. 100% animal friendly, all products are Vegan Society registered. We used an array of their energising, antioxidant and multivitamin products on this challenge, of which the guarana tablets were most useful. Sourced from an Amazonian vine, these tablets contain natural caffeine and other natural stimulants, and helped us climb 3 mountains, and drive nearly 500 miles, on less than 2 hrs sleep.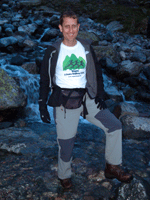 Vegetarian Shoes
This Brighton-based company supplies premium vegetarian shoes to customers worldwide, and kindly supplied us with top vegan hiking boots for this event. These proved to be hard-wearing, waterproof and very, very comfortable. Despite walking (and running) 25 miles, and climbing around 10,000 feet, in under 24 hours, we developed only mild blisters. These boots are comfortable enough to run and sleep in (thank God!).